PLACEMENTS with private sanitary facilities in Batz-sur-Mer
Comfort Package (1 tent, caravan or motorhome / 1 car / electricity 6A)
Package Ready to Camp 20m² (2 bedrooms) with electricity
Pitch Premium Freecamp + electricity 10A
Our pitches with electricity for rental in Loire-Atlantique
Whether you are a fan of authentic campsite or a fan of travelling in a van, take the time to stop at one of the rental pitches at our campsite Les Paludiers. Whatever the length of your stay, we offer a wide choice of pitches to rent, all with 10 amp electricity and separated from each other by hedges. If in doubt, don't hesitate to provide space for an extension cord and an adapter.
Designed for 6 people, stay with family or friends on our shaded, semi-shaded or sunny bare caravan pitches. When booking online or by telephone, please let us know your preference so that our team can allocate you the best possible pitch. Within the campsite, there are several sanitary blocks with nursery and laundry facilities.

In the low season we offer preferential rates for ACSI card holders and children under 3 years old, who do not pay any extra. So you will always benefit from the best value for money in Batz-sur-Mer. Discover also our other promotional offers in order to benefit from the best rates when booking your pitch or mobile home in Batz-sur-Mer.
A word from Cyril, campsite manager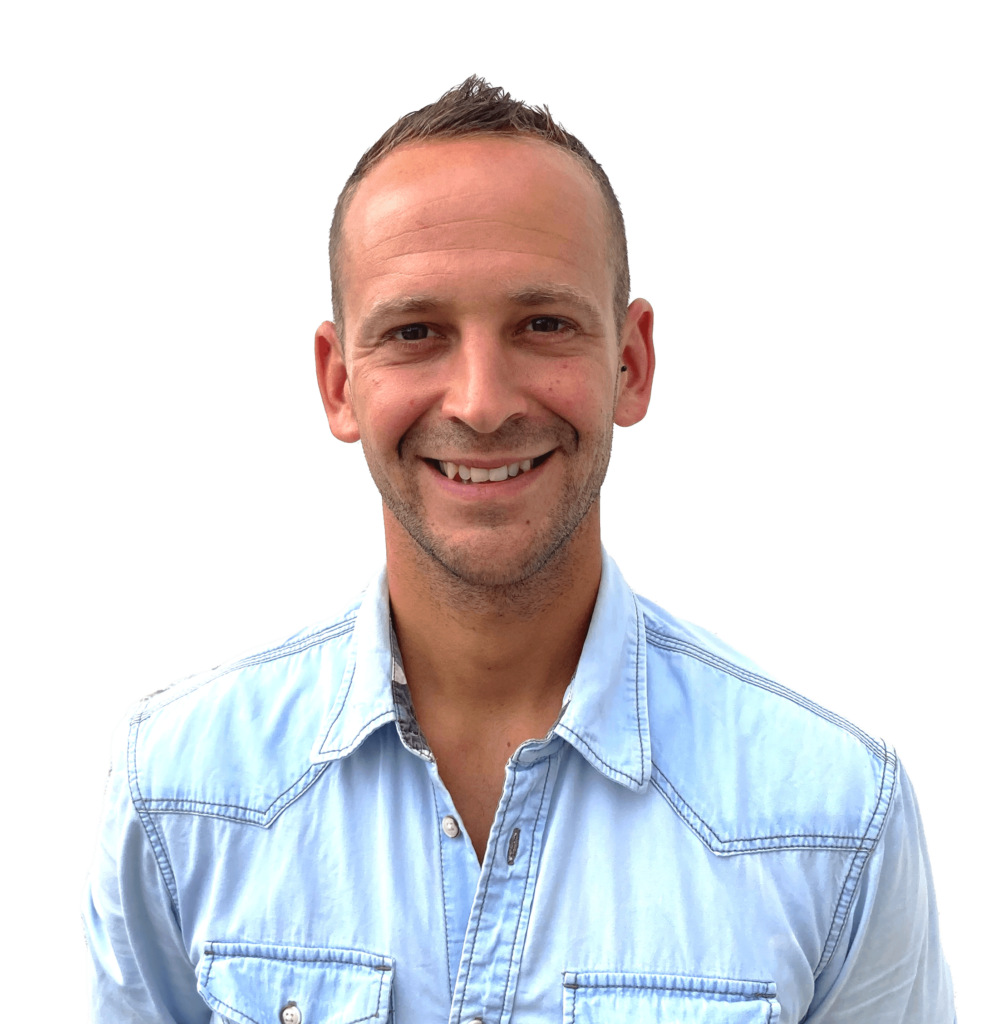 Discover our pitches with electricity and private sanitary facilities to spend a holiday close to nature without sacrificing your comfort. Choose our Ready to Camp tents or our camper van service to travel light and feel at home!
Our pitches with private sanitary facilities in Batz-sur-Mer
Adopt the new way of doing campsite! Since 2021, innovation has been at the heart of our desire to offer you a new type of accommodation: Freecamp. Let yourself be tempted by these 5m² wooden cabins equipped with an open kitchen area with sink and hotplates, a mini fridge and private sanitary facilities. Each electrified pitch is occupied by an outdoor table ideal for having breakfast with the family. Adapted to the current sanitary context, you will love our Freecamps, premium equipment for your stay in a bare pitch in the small town of Batz-sur-Mer.
Our pitches with equipped tents in Batz-sur-Mer
Leave with peace of mind by opting for a campsite stay in Ready to Camp. These fully-equipped 2-bedroom tents allow you to travel light thanks to the equipment already present on your arrival on the pitch. Inflatable mattresses, gas stove, dining table and folding chairs are all provided for you when you arrive at the campsite! The electrical outlet on the pitch will brighten up your evenings spent in the lounge chairs provided in the Ready to Camp.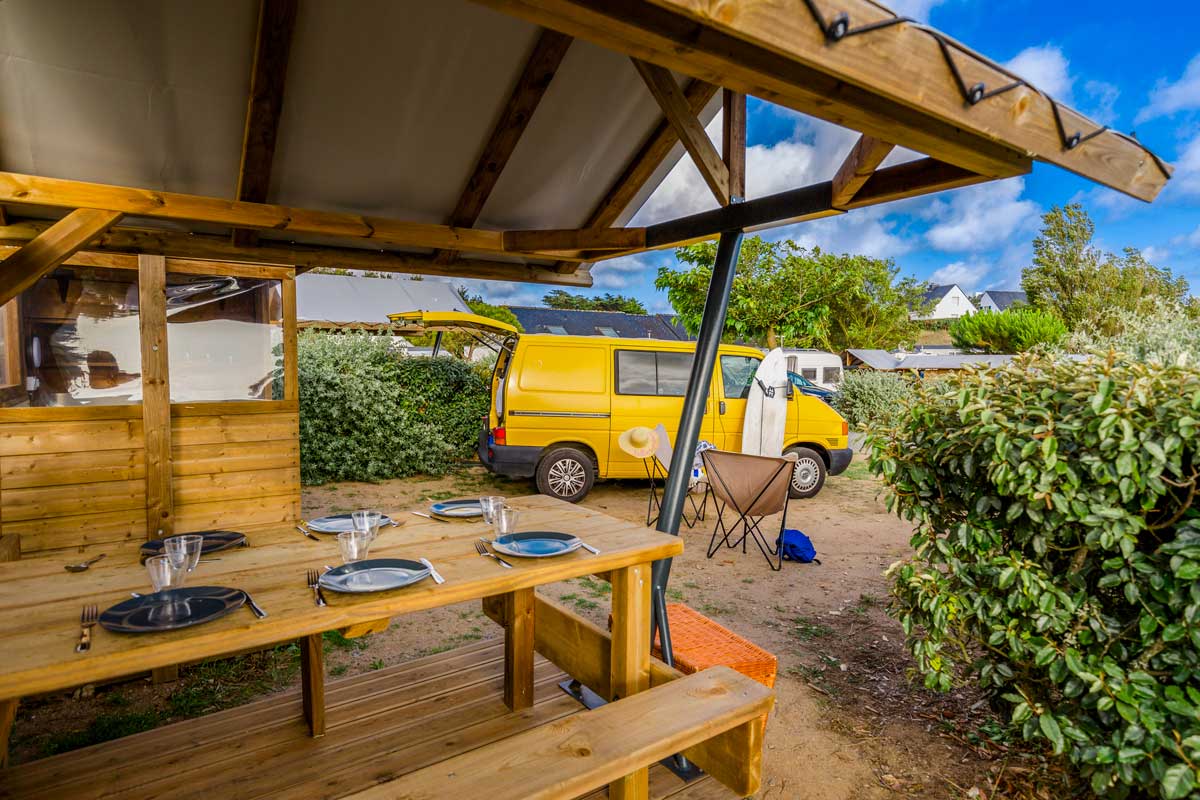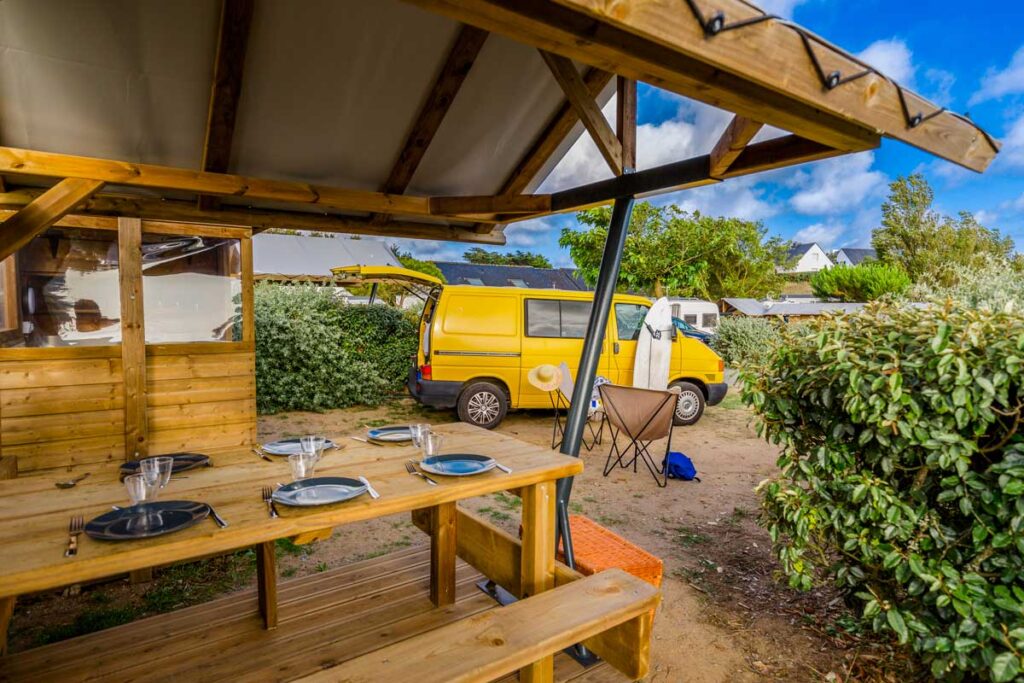 Very quiet, large and shady pitch ideal for a relaxing stay. The campsite is clean and well maintained.
Jean
Our services for locations
Friends campers, during your stay in a caravan site in Batz-sur-Mer, take advantage of our many services dedicated to you. Our reception will make your holidays easier thanks to the sale of electrical adapters and our rental barbecues.
Go light and take advantage of our new products specially designed for our campers. Choose the camper's trunk with its complete set of dishes and kitchen utensils from 15€/stay or choose the camper's kit option with complete garden furniture, deckchairs and fridge from 18€/stay.
For your security, safes are available at the reception. Leave your camper or van on your campsite and take advantage of our rental bicycles and our breakfasts delivered to your caravan site.
There are 3 sanitary blocks on the campsite. You will have access at all times to the various facilities: showers, toilets with toilet paper, nursery area, laundry. To enjoy convivial meals with friends or neighbours, take advantage of the communal barbecues near each toilet block. Loaned grills (with deposit) available at the reception.
An emptying area is also available for our campsite holidaymakers.
Campsite rentals and promotions